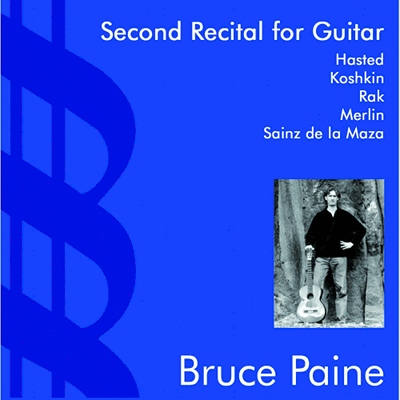 Please note, stock is limited!
This classical guitar CD was produced shortly after Bruce Paine's first northern hemisphere mini-tour and features repertoire from the programme he took with him such as Derek Hasted's Celebration Suite, Jose Luis Merlin's Suite del Recuerdo and the Three Russian Waltzes by Stepan Rak.
"..there's a lovely diversity of character throughout the album."
"This is another beautiful collection from Bruce Paine"
New Zealand Musician Magazine Feb/March 2001
Pay with Paypal - CD Price $30
Please note this option includes an additional NZ$4 for postage and NZ$1.29 to cover PayPal transaction fees.
New Zealand customers can download the following order form.
Payment can be made by cheque or direct debit.
The form includes a tear-off form for mail orders.
Please enter the quantity required and payment amount as required.
Catalogue Number: BNP CD 02
Please note, stock is limited!